CoreLogic's Buyer Classification data for January shows the Government's credit policy changes from late 2021 appear to be impacting first home buyers (FHBs), with their share of purchases dipping from 26% in late 2021 to 24% in January 2022.
CoreLogic NZ Chief Property Economist, Kelvin Davidson says reductions to loan to value ratio (LVR) speed limits for owner occupiers from November 1 coupled with changes to the Credit Contracts and Consumer Finance Act (CCCFA) on December 1 are taking their toll.
"It's difficult to disentangle the two influences, but what is clear is that new buyers are being hampered by tighter credit policies," says Mr Davidson.
"FHBs were always likely to be knocked by the halving in the LVR speed limit, given that they were the dominant users of the previously higher allowance. And that has now been compounded by the CCCFA changes which don't allow lenders to make the assumption that a borrower will tighten their spending after they've been given a loan in order to meet their repayments."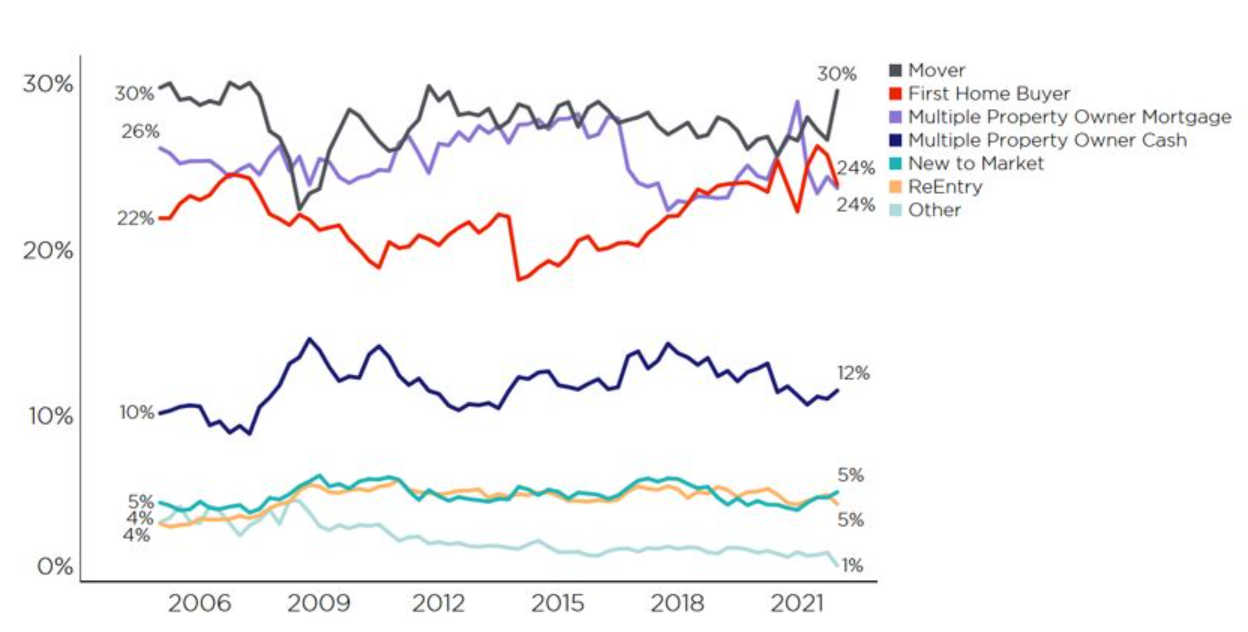 NZ % share of property purchases by buyer type
CoreLogic's Buyer Classification data showed under the national figure there is some diversity amongst the main centres. Auckland, Wellington, and Christchurch all saw FHBs' market share drop in January, with Hamilton steady, while Dunedin and Tauranga actually saw increases.
Mortgaged investors' share of activity was steady again at around 24%, which Mr Davidson says is where it's been since the middle of last year, down from close to 30% in early 2021.
"Tight LVR rules and the phased removal of interest deductibility, as well as the delicate mix of low gross yields versus rising running costs such as mortgage rates are seemingly subduing investor demand," says Mr Davidson.
Cash investors are also relatively quiet (12% share), Mr Davidson flags they could play a more prominent role this year, as reduced competition for a larger selection of listings plays into their hands, along with relocating owner occupiers.
"We've been expecting relocating owner-occupiers or 'movers' to also increase their market share this year, as the rise in listings starts to give them more choice. Recently they've been renovating not relocating because low stock on market meant they couldn't find their ideal next property. This was indeed a feature of January's data, with movers' market share rising from 27% in late 2021 to 30% in January," says Mr Davidson.
"Of course, a single month of data doesn't necessarily mark a definite new trend, and the reduction in the raw numbers of sales is also a reason for caution when analyzing market share figures. However, the balance of probability still suggests that we're at a turning point for the property market and the buyer mixes will be different this year.
"FHBs won't welcome the tighter credit environment, but it's possible many will still continue to find a way to buy through use of KiwiSaver for a deposit and compromising on the property location/type".
---