The downturn in New Zealand's property market continued in April, with average values down by another 0.6%, CoreLogic's monthly House Price Index (HPI) shows.
Nationally, average values are 10.3% lower than the same month last year and $115,000 below their March 2022 peak.
CoreLogic NZ Chief Property Economist, Kelvin Davidson said at $928,656, average values were still approximately $200,000 higher than the pre-COVID level (March 2020).
He said while the latest falls weren't much of a surprise, it was worth noting the 0.6% decline in April is smaller than the drops of about 1% in each of February and March, and less than the average monthly fall in this cycle so far of 0.9%.
"The slowdown in the rate of decline could be signalling a near-term floor for house prices, which would be consistent with some shifting trends in key drivers," he said.
"The generalised peak for mortgage rates could start to increase buyers' confidence in the coming months, while employment remains high, alongside a slight decline in available listings, and rising net migration."
Mr Davidson suggests the impending relaxation of the loan-to-value (LVR) rules could also impact values, an effect which could be amplified if investors try to buy in advance of debt-to-income ratio limits to be introduced next year.
The latest round of changes to the Credit Contracts and Consumer Finance Act (CCCFA), which comes into force this month, could help a few more borrowers to access the market, due to a less-stringent approach to expenses when the bank is assessing the loan applications.
"Of course, should New Zealand fall into a recession there will be an alternative impact on the housing market and we can't ignore the prospect of negative equity either," Mr Davidson said.
"CoreLogic's latest valuation estimates for individual properties shows approximately 2,500 recent first home buyers could owe more than the value of their property. Buyers in Auckland and Wellington make up the bulk of those properties."
Among the main centres, Hamilton and Tauranga recorded the biggest falls in average values in April (-1.2%), but Auckland showed a smaller decline, while Christchurch, Dunedin, and Wellington weren't far off a flat month for prices. Of course, over 12-month horizons, there are still some reasonably stark differences, with Wellington down by 18.8% and Christchurch a far smaller 3.6% fall.
CoreLogic House Price Index – Main Centre Average Value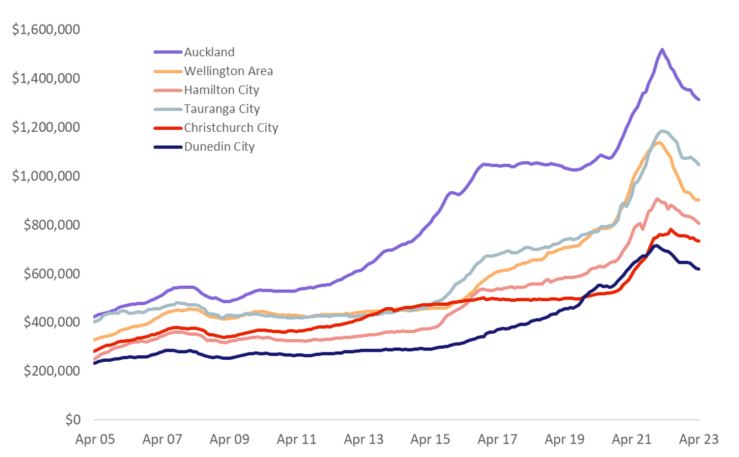 Given the wider Wellington area has fallen the most to date (among the main centres), it could be a key market to keep an eye on in terms of potentially finding a floor first as well.
There were tentative signs of this in April's index results. Upper Hutt recorded a modest 0.1% rise, the second increase in the past three months, while Wellington City also saw average values rise by 0.2%, the first time that the capital has avoided a drop in prices since February last year.
Meanwhile Lower Hutt only saw values drop by 0.3% – mild compared to the average monthly fall over the previous three months of 1.3%.
Mr Davidson added: "A single month of data can't necessarily be relied upon as an indicator of a new trend or phase. But certainly, the rise in values in Wellington City is still worth taking note of."
Auckland's property market generally continued to drop in April, with a fall of 2.8% in Papakura, and declines in the range of 1-1.5% in Waitakere, North Shore, Rodney, and Manukau. However, there were also hints of a turnaround in Auckland City (+0.5%) and Franklin (+1.4%). Over the past three months, those two markets have recorded changes of 'only' -1.1% and +1.1% respectively.
Regional House Price Index results
Outside the main centres, there was the usual variability in property values in April.
For example Palmerston North recorded a 2.8% drop in values, while Whangarei saw a 1.9% decline and Kapiti Coast was down by 1.7%. But there were also pockets of growth too, including Rotorua, Hastings, Queenstown, Napier, and Whanganui. Over the past year, Queenstown's property values have tended to buck the weaker national trend, and are currently slightly above the levels from 12 months ago.
"It's still very early days in terms of the Cyclone Gabrielle recovery in Hawke's Bay and the impact that might eventually be seen in that area's property market," Mr Davidson said.
"But the rise in values in Napier and Hastings in April needs to be watched. Continued gains in the coming months could signal that the reduction in supply is boosting house prices, like we saw in Christchurch post-quakes."
Property market outlook
It's still shaping up as a year of two halves, Mr Davidson said,noting that the outlook for 2023 had always been on a weak start with a possible end to the downturn later in the year.
"I wouldn't equate a potential near-term stabilisation for housing prices with the immediate start of another upturn," he said.
"After all, affordability is still stretched, interest rates may not fall sharply anytime soon, and debt-to-income ratio limits from March next year could restrain a market recovery. I could readily imagine relatively flat house prices into 2024, possibly longer.
"The potential end of the downturn over the next few months will be viewed differently by buyers and sellers. Existing owners will potentially be happier, but aspiring buyers a little more anxious. If we're correct in our outlook and house prices stay broadly flat at the new lower level for at least one to two years, there'll still be a period where housing affordability can improve, wages will catch up a little and I think most people would see that as a good thing."
Download the latest House Price Index
---