New Zealand's housing market downturn has accelerated in the past month with the rate of falls in property values doubling month-on-month in August. CoreLogic's House Price Index (HPI) shows the national measure of property values fell a further -1.8% in August, twice the rate of that seen in July (-0.9%).
CoreLogic NZ Head of Research, Nick Goodall said restricted, more expensive credit continued to impact increasingly weary buyers with the property market downturn firmly entrenched and evident across the entire country.
The three-month fall in values of -3.5% is drifting closer to the depths of the Global Financial Crisis (GFC) when the rate of change bottomed out at -4.4% at the end of August 2008.
"Consumer sentiment can be a key influence on the market and with the evidence of market downturn clear in every corner of the country, the already-smaller pool of would-be buyers, due to tighter, more expensive credit, are happy to bide their time in the falling market," Mr Goodall said.
CoreLogic House Price Index - National and Main Centres
Property values continued to fall across all six main centres in August with Dunedin (-2.5%) and Auckland (-2.0%) joining Wellington (-2.6%) as areas where the monthly rate of change has fallen below -2%.
The monthly rate of decline in the other three main centres was also below -1%, illustrating the broad-based nature of the downturn with the quarterly rate of change dropping into negative territory for all six main centres.
Wellington was the first area to drop into negative territory on the annual measure in July, however August figures show Dunedin and other main urban areas have now joined it.
The three-month percentage fall in Christchurch was very minor and values remain 16.4% above the same time last year, illustrating the greater resilience of the Garden city, which remains the most affordable of the large cities. The property value to income ratio in Christchurch is 7.1 – a lot more favourable than Auckland (9.7) or Dunedin (8.2).
CoreLogic House Price Index – Wellington

Honing in on the weakness of the broader Wellington area, values fell more than -1.4% in August across each of the council areas, with particular weakness in both Lower Hutt (-3.2%) and Wellington City (-2.7%). The downward momentum in the market has been persistent, with Wellington City values now -8.2% lower than they were at the beginning of winter (1 June).
Of the five areas included here, the Kāpiti Coast District is the only one to have values at a higher level (1.2%) at the end of August than the same time last year, with Lower Hutt property values now -6.4% below then.
"The restrictive lending environment, where loan-to-value ratio limits remain tight and increasing interest rates affect borrowing power alongside waning market confidence, all appear to be consistently impacting this typically high first home buyer market the most," Mr Goodall noted.
CoreLogic House Price Index – Auckland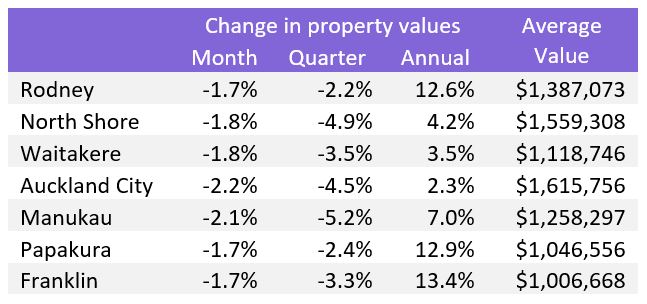 "The downward momentum shift has been relatively consistent across the Auckland Super City in August, with values falling between -1.7% in the city's outer areas, to -2.2% in Auckland City.
"Longer term change is more varied however, with values only slightly above (2.3%) where they were at the same time last year in the more expensive Auckland City area, when compared to the more affordable locations further south, in Papakura (12.9%) and Franklin (13.4%)."
Regional House Price Index results
CoreLogic House Price Index – Other Main Urban Areas (ordered by annual growth)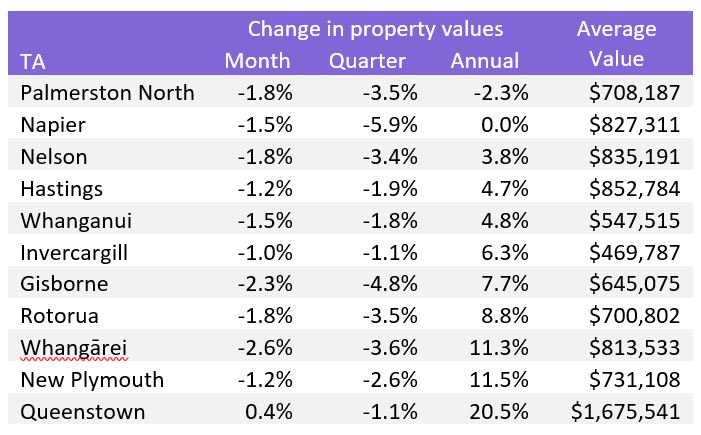 Outside the main cities, values in Queenstown showed some resilience (0.4%) in August however the three-month change of -1.1% since the end of May is probably more indicative of recent market movement," Mr Goodall said.
The longer-term comparison to last year does paint the picture of a market moving to its own beat however – up 20.5% since the end of August 2021 – almost double the next best main urban area (New Plymouth 11.5%).
Meanwhile values in Palmerston North have fallen to below the same time last year (-2.3%) and Napier values are back to parity with that time. On the more timely monthly change in values, Whangārei (-2.6%) and Gisborne (-2.3%) have shown more recent weakness.
Outlook for NZ housing values
Mr Goodall said while it's likely there is still time to run on the current downturn, there have been green shoots of optimism sprinkled through the mostly negative data flows.
"Consumer sentiment has shown signs of bottoming out, probably helped by recent falls in short-term interest rates and whispers of a market trough approaching for some markets," he said.
"The borrowing environment remains tough though, and along with stretched affordability off the back of increasing interest rates, a firm bounce back in values is not expected. Further increases to the official cash rate are anticipated, but the shifts aren't having the same impact on mortgage rates as previously, due to the changes already being 'priced in', and the banks competing hard for the reduced pool of lending. As expectations of mortgage rates nearing their expected peak become more common, housing affordability is likely to improve, which could add to an increase in property demand."
If this is the case, and sentiment follows, Mr Goodall said buyers anticipating the trough may look to buy before the turning point, thus contributing to the turning point itself.
He said property value growth may not immediately bounce back to any great degree but it would still spell the end of a unique downturn which has been relatively orderly to-date.
Mortgagee sales remain low, although there was a lift in Q2 to 21 (from 6 in Q1) still well below the peak of 777 in Q2 2008. A strong labour market, with low unemployment has clearly assisted in ensuring home owners continue to keep up with their mortgage repayments – credit arrears remain low, according to both Centrix (credit agency) and the Reserve Bank of NZ.
The other topical market factor is the vulnerability of the construction industry and discussion of the recent strength in building consent figures eating into the prior deficit of homes required for our population.
Mr Goodall said it was a notoriously difficult statistic to calculate as it requires a number of assumptions including when the starting point is, how household sizes have changed and are changing over time and the location/size/type of housing being built, but it still appears as if an oversupply of housing is some way off for NZ.
"For the construction sector, the recent Government announcement of the "Build Ready Development Pathway" to support stalled construction will be welcome news to the industry faced with diminishing commitments for new builds, desperate to avoid another bust cycle," he said.
"On the face of it the Government backed pathway should provide a boost in certainty and confidence for developers to continue to build their pipeline of work."
Download the August House Price Index
The CoreLogic HPI uses a rolling three month collection of sales data. This has always been the case and ensures a large sample of sales data is used to measure value change over time. This does mean the measure can be less reactive to recent market movements but offers a smooth trend over time. However, due to having agent and non-agent sales included, the index provides the most comprehensive measure of property value change over the longer term.
From May 2022 HPI, changes were incorporated into the index to take advantage of new and improved recent sales processes which has led to a larger sample of sales (including recent sales) being used, enhancing the HPI and making it even more reflective of recent market movement.
---